SCUFFLE HOES
Our Professional scuffle hoes ensure that weeds and unwanted vegetation have no chance on flower beds or paths. The strong steel blade is hardened, sharpened on four sides, exchangeable and screwed onto a sturdy shaft.
galvanized
available with different knife shapes and in 15 or 18 cm widths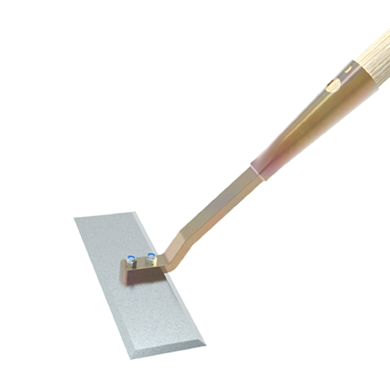 Ultra-light sharpness against dirt, moss and weeds: The Razor scuffle hoe's exchangeable blade is made of extremely thin spring steel and sharpens itself during use – highly efficient and functional.
Keep this in mind – before it´s too late: The Kerbstone cleaner frees drains, gutters, and kerbside crevices from dirt, leaves, weeds and moss to prevent dangerous flooding.
Galvanized steel pull shovel
Joint cleaner made of stainless steel
galvanised, replaceable blades
Our Professional scrapers perform miracles in removing dried-on dirt and mortar residue. Their 2 mm thick stainless steel blade is replaceable, screwed to a sturdy shaft and available in several sizes.
Products care and cleaning