CARRIER – THE SPECIALISTS
Carrier tools perfectly complement existing trolleys. Precisely tailored to special fields of use, they support waste removal, professional landscaping and daily garden work.
Carrier Original holds a 120 litre rubbish container and has all the advantages of the Accurato series. These include puncture-proof tyres, a lockable storage compartment, holders for a Greifboy and four handle tools. Rollers on the handle serve as a loading aid, six reflectors aid visibility in poor light. Matching tools are included with the Performa Edition.
Carrier Pick Up is a lightweight yet sturdy frame which can ergonomically carry a 240 litre refuse bin. It has holders for two handle tools and a Greifboy. Both the handle and frame are made of galvanised sheet steel.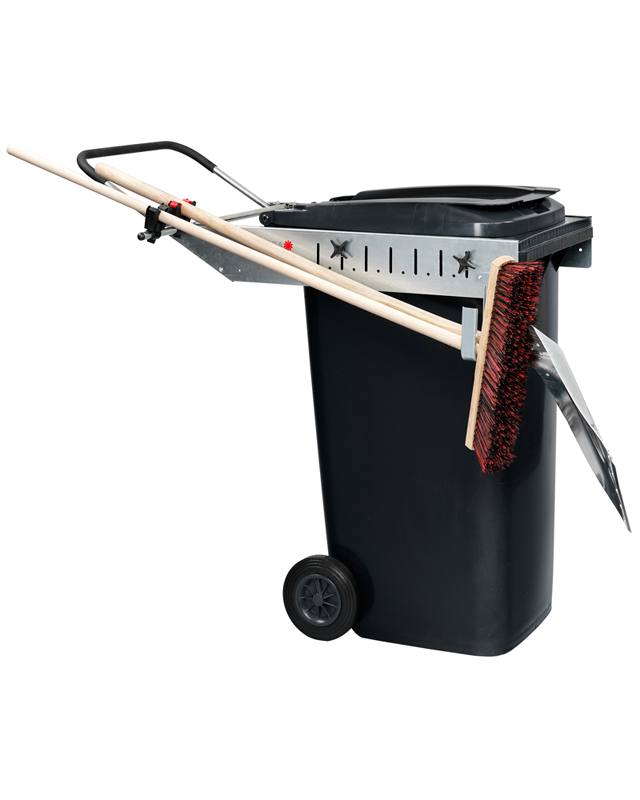 Carrier Volumo triples the volume of a wheelbarrow. Quick releases allow easy and fast mounting on wheelbarrows that are 61 to 70 cm wide. Holders for several handle tools are optionally available.
| | CARRIER ORIGINAL | CARRIER PICK UP | CARRIER VOLUMO |
| --- | --- | --- | --- |
| Height (cm) | 98 | 30 | 45 |
| Width (cm) | 68 | 80 | 61-70 |
| Length (cm) | 85 | 126 | 80 |
| Weight (kg) | 20 | 7 | 9 |
| Number of bins | 1 | 1 | – |
| Capacity (l) | 80-240 | 240 | 170 |
| Aluminium / Galvanised steel | •/• | -/• | -/• |
| Wheel diametre | 310 | – | – |
| Puncture-proof wheels | • | – | – |
| Brake | – | – | – |
| Lockable storage compartment | • | – | – |
| Tool holder | •/4 | •/2 | ◦/1 |
| Holding clip for litter picker | 1 | • | ◦ |
| Reflectors | 6 | – | – |
| Rolls for load support | ◦ | – | – |
Products cleaning and care